Privacy Policy
Rat Fink is committed to protecting the privacy of our members. I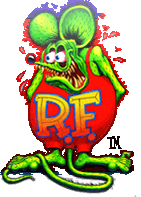 n order to provide a safe, secure experience, we will make every effort to ensure that the information you give us remains private, and is used only for the purposes described below.
Rat Fink gathers collective information about members, such as which areas of the site are visited most often and what services are most valued. This aggregated and anonymous data helps us determine how we can create a better overall experience for our members. We may share this aggregated, anonymous information with our partners, so that they too may understand how to best serve our members.
The Rat Fink registration form requires members to give contact information (such as name and email address). We use this information to contact members when necessary (i.e., to send them product updates and offers), as well as to send members promotional material. To opt-out of receiving promotional emails, see the opt-out section below.
However, Rat Fink does not sell or distribute any personal information.
Security
This site has password security measures to protect against the loss, misuse and alteration of the information under our control.
Opt-Out
Rat Fink provides members with the opportunity to opt-out of receiving communications from our partners and us, as well as to unsubscribe from our service.