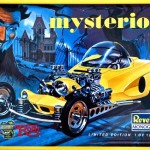 The Ed Roth Mysterion was built in 1963 and combined two Ford engines, two transmissions, plus two welded rear ends for the foundation.
Ed got the idea for Ed Roth Mysterion fromthe multi-engine dragsters that he had seen at the dragstrips.
Ed started out with the frame and then he created the front end with the offset headlight, the rest of the car came easily afterwards. Larry Watson painted it candy yellow.