Hot Rods & Kustom Kulture
Kustom Kulture is an American neologism used to describe the artwork, the vehicles, the hairstyles, and the fashions of those who drove and built custom cars and motorcycles in the US from the 1950s through today.
In the early days of hot rodding, many fashions and styles developed. Over time, each of these distinct styles of customizing have blended and reshaped our everyday life. Artists such as Von Dutch (Kenny Howard), custom car builders such as Ed "Big Daddy" Roth and Dean Jeffries, hot rod and lowrider customizers such as the Barris Brothers (Sam and George Barris), along with numerous tattoo artists, automobile painters, and movies and television shows such as American Graffiti, Happy Days, The Munsters (The Munster Koach, Drag-u-la) and The Monkees (The Monkeemobile) have all helped to form what is known as Kustom Kulture.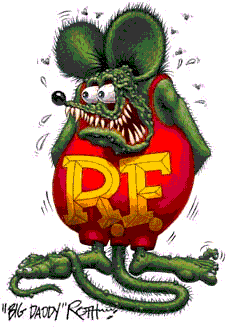 Kustom Kulture is usually identified with the greasers of the 1950s, the drag racers of the 1960s, and the lowriders of the 1970s. Other subcultures that have had an influence on Kustom Kulture are the Skinheads, mods and rockers of the 1960s, the punk rockers of the 1970s, the metal and rockabilly music, along with the scooterboys of the 1980s, and psychobilly of the 1990s.
Kustom Kulture and each separate culture has added their own customizations to cars, fashion, music, and added their own ideas of what is cool, or what is acceptable, and what is not. Everything from wild pinstriped paint jobs, choptop Mercurys, custom Harley-Davidson and Triumph Motorcycles, metalflake and black primer paint jobs, along with cartoons and monster movies. These influences have had an impact on what defines anyone and anything who is part of this automobile subculture.
In the 1990s and 2000s, Kustom Kulture had taken on a rebirth of American subcultures from the 50's and 60's with DIY activities. Each style is distinct, and has its roots in American automobile history. Many styles that would not have tolerated each other in the past now come together in large Kustom Kulture car shows.
The rebirth of Kustom Kulture has seen the use of the term "Kustom Graphics" to describe the style of artwork associated with the subculture when applied to posters, fliers, t-shirts and logos.