Big Daddy Roth was always both generous to and grateful for the people in his life. He gave praise where praise was due, and was always willing to help those in need
In the spirit of Big Daddy Roth, we'd like to give a special thanks to the following people:
Ilene Roth
LeGrand Brother Rat
Rusty
Tammy
Cody
Wyatt
And their families
Finksters everywhere
Rat Fink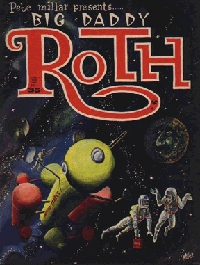 I am a completely different person just for knowing Big Daddy Roth. His art, his personality, and his view of the world changed me forever. He is missed, but he hasn't gone anywhere. He lives within the people he inspired.
– Ryan Cochran
In tribute to the life of Ed "Big Daddy" Roth, we have created an online museum of sorts, showcasing the wide variety of Ed's creations. You can View the Ed Roth Museum Here.