The number one Rat Fink partner over the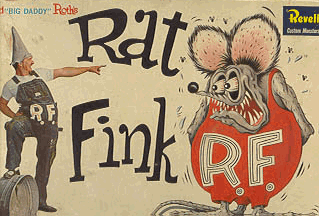 years would have to be Revell. The company responsible for turning Ed's vehicular creations into model kits, the sale of said kits funded Ed's car building endeavors for many years, and continues to provide for his family today.
A number of other companies over the year have stepped forward, such as Electra Bikes. They produced a pretty snazzy set of bicycles modeled in the spirit of Ed "Big Daddy" Roth.
The Peterson Automotive Museum in Los Angeles has the largest collection of Ed Roth vehicles and memorabilia around, and we thank them for helping to keep his memory and work alive.
The National Automobile Museum in Reno Nevada has Ed's Beatnik Bandit I and Beatnik Bandit II along with several other smaller vehicles. They have a gift shop with some items that you would love to have for your collection.
Beau Boeckmann from Galpin Auto Sports has the largest collection of Ed Roth's vehicles. They have donated different vehicle viewing's for the weekend at the Ed "Big Daddy" Roth's Rat Fink Reunion in Manti,UT, so the attendees could experience in person the unique designs that Ed created. They also have a gift shop with Ed Roth's designs.
Other Partners Include:
Matco Tools
Levy
Mooneyes
Electra Bikes
Revell
House Industries
Mattel
National Automobile Museum-Reno, NV
Peterson Automotive Museum-Los Angeles, CA
If you are interested in becoming a Rat Fink partner, we are always happy to hear your proposal. Ed was a prolific entrepreneur, and we would love to hear your ideas.