Rat Fink Art – The Iconic Symbol of Kustom Kulture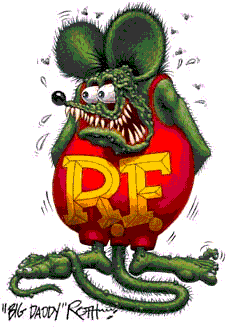 Rat Fink is one of the several hot-rod characters created by one of the originators of Kustom Kulture, Ed "Big Daddy" Roth. Roth's dislike for Mickey Mouse led him to draw the original Rat Fink art. After he placed Rat Fink art on an airbrushed monster shirt, the character soon came to symbolize the entire hot-rod/Kustom Kulture scene of the 1950s and 1960s. Roth is accepted as the individual who popularized "Monster Hot Rod" art form.
The Rat Fink Art depicts a green, depraved-looking mouse with bulging, bloodshot eyes, an oversized mouth with yellowed, narrow teeth, and a red T-shirt with yellow "R.F." on it.
Other artists associated with Roth also drew the character, including Rat Fink Comics artist R.K. Sloane and Steve Fiorilla, who illustrated Roth's catalogs. Rat Fink Art and Roth are featured in Ron Mann's documentary film Tales of the Rat Fink (2006). Jeannette Catsoulis reviewed in The New York Times:
Ogling fins and drooling over fenders, the movie traces the colorful history of the hot rod from speed machine to babe magnet and, finally, museum piece and collector's item. Along the way we learn of Mr. Roth's lucrative idea to paint hideous monsters — including the Rat Fink Art — on children's T-shirts, a sartorial trend that, in the 1960's, had the added benefit of getting their wearers of Rat Fink Art banned from school, thus giving them more time to play with Mr. Roth's model car kits. I'll bet Donald Trump wishes he had thought of that one.
More instructive about the obsessions of teenage boys than the allure of steel and wheel, "Tales of the Rat Fink" punctuates Michael Roberts's Rat Fink Art with eyeball-searing animation, a haphazard selection of old newsreels, photographs and automobile ads. Lending their voices to the cars themselves — a trick Mr. Roth, who died in 2001, might have found a tad cutesy — is an appropriately eclectic bunch of celebrities, including Tom Wolfe (who celebrated Mr. Roth in "The Kandy-Kolored Tangerine-Flake Streamline Baby") and Ann-Margret, while a strangely listless John Goodman serves as the voice of Mr. Roth. "Cars should have personality," he tells us, in a tone that suggests he's struggling to locate his own. Depending on your age, sex and mechanical inclinations, "Tales of the Rat Fink" will convince you that Mr. Roth should either have been canonized or smothered at birth.
Rat Fink Art comes in all shapes and sizes, from YO-YO's to Halloween masks, posters to shirts. Feel free to poke around the site and view the many forms of Rat Fink art.