Rat Fink Featured in Utah Newspaper
"'Discovery Road' Takes a Cruise Through Utah's Heritage": Read this article from the Daily Herald.
The Orbitron has been found!
You can read an excerpt from the article below, or read the full article at Hot Rod Magazine.
Writer: Pat Ganahl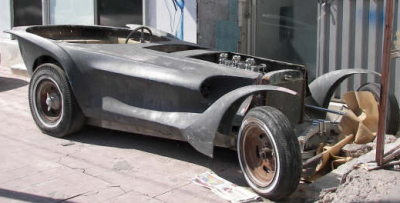 photographer: Pat Ganahl Collection, Jerry Heasley
This story is so Ed Roth, it's almost unbelievable. And that's just the way Big Daddy would want it.
As of two years ago, when the Detroit Autorama featured a gathering of some 17 Roth-mobiles (both four- and three-wheel varieties; HRM Aug. '06) in a special posthumous Roth tribute, we thought nearly all of his far-out, fiberglass, mostly bubble-topped creations had finally been accounted for, especially with the totally unexpected appearance of Tweedy Pie.
This little purple T-bucket roadster, ironically, was neither built by him (he stripped it, named it, then bought it). It was not made of fiberglass (as nearly all other T-buckets were), nor had a bubble-top. However, it became a well-known, popular Roth-mobile when Rod & Custom splashed it on its cover as "Roth's New Rod!" in 1962, and Revell made a long-selling model kit of it.
This car reappeared briefly in 1975, dressed in chrome trinkets by its new owners, then disappeared into an old wooden garage for the next 30 years. I knew where it was, but the owner would neither let me see nor photograph it. Then bammo, there it was, looking like it did in 1962, on the floor at Cobobubble-top Hall in 2006.
I guess all it took to finally get it out of the garage was a big wad of money. Reportedly predictable, an even bigger wad of money carted it to another new home after the show.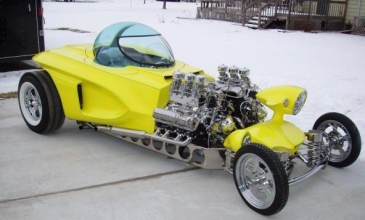 We knew where Tweedy Pie was, but another well-known Roth machine (unquestionably his wildest of all) had been conspicuous by its absence for decades. We knew that the twin-engine, chrome-frame, bubbletop, Cyclops-nosed, and aptly named Mysterion had self-destructed from the weight of its two big-block Ford engines while being trucked from show to show, and little more than the front axle, wheels, and tires had been returned to Roth.
In a lengthy, humorous account told in my book, Ed "Big Daddy" Roth, His Life, Times, Cars and Art, custom builders Jack Walker and Doug Thompson were able to acquire the unwanted 'glass body from a custom shop in the Midwest in the '70s and seriously contemplated dumping the asymmetrical nose in the freeway median, lighting it on fire, and telling the cops it was part of a spaceship that fell out of the sky.
But they didn't. They gave the remains to someone in Tulsa, Oklahoma, who gave it to a kid who may have tried to restore the Mysterion in his parents' basement but then had to get rid of it. We don't know. It might still be out there somewhere. It's a mystery.
But it was so well-known and amazing (it, too, was a Revell model), that a complete, totally accurate replica of this vehicle showed up at Cobo Hall and was immediately snapped up by Ralph Whitworth, who is building a huge new automotive museum in Winnemucca, Nevada, which will include special Ed Roth and Von Dutch wings (stay tuned for more on this soon).
But the one Ed Rothfiberglass,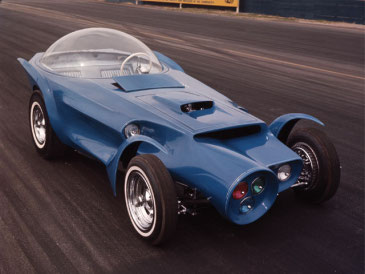 bubbletop,asymmetrical show car that never seemed to be all that conspicuous either by its presence or by its absence is the one he called the Orbitron. After the highly successful bright-yellow Mysterion and hot-pink Road Agent (another good-selling Revell model), Ed crafted the dark-blue, somewhat boxy Orbitron in 1964, possibly in as little as one or two months' build time. The Rat Fink was at it again.
Its signature characteristics were a half-round clear bubbletop over a white fur-lined, tub-like driver's compartment placed at the extreme rear of the vehicle, with the driver sitting behind the rear wheels, slingshot dragster-style (the rear tires were narrow-band whitewall slicks on deep-dish chrome Astro wheels to augment the image).
At the front of the car, two regular, round, clear headlights were set into coves on either side of the mid-mounted engine, shark-fin fiberglass fenders half-covered the front wheels, and a strange half-round, half-rectangular nose held one regular headlight in the rectangular side and three in the much larger, round, barrel-shaped side.
These lights were tinted red, blue, and green. Ed had been an electronics nut since childhood and knew that the latest electronic sensation-color TV-was based on combinations of these three primary colors. His theory was that when the headlights were turned on at once, they would produce one strong, white light beam. The theory was flawed, but that was a moot point since it couldn't very well be demonstrated at indoor car shows, anyway.
To make that point further moot, the Orbitron didn't make it to many car shows, Revell never made a model of it, and when it finally made it into a magazine (its one appearance), it essentially got fourth billing in the lower left corner of the Sept. '64 cover of Car Craft with the muted blurb, "Ed Roth's Orbitron." That's all. No starbursts, no flashes. Why?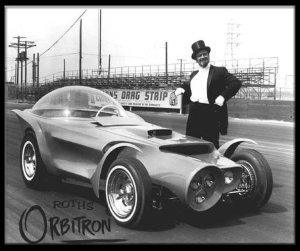 Ed had a "mistake" pile at his shop that he was rather proud of. When he was welding and grinding a frame or an axle, or slapping plaster over boards and boxes to create his latest wild fiberglass body, if he didn't like the way something was turning out, he'd cut it off with a hacksaw and throw it on the mistake pile.
He liked to boast that the pile got pretty big. But the Orbitron, along with the later, even less-seen Wishbone, were the only entire vehicles Roth ultimately labeled mistakes. He rarely mentioned the Wishbone, but he posed several reasons over the years for the Orbitron's lack of success.
Continue over to Hot Rod Magazine for the rest of the article.
Stay tuned for more Rat Fink news.