Ed and his crew were big fans of music, so much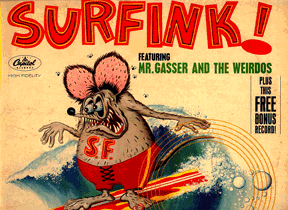 that they decided to form their very own band (Mr. Gasser), a reflection of their lifestyles.
Thus was born Mr. Gasser & the Weirdos, led by Ed Roth, who himself was known as Mr. Gasser. It was formed in the early 1960s, and released a few unique surf rock albums, most notably the 1963's Hot Rod Hootenanny.
One Way Records released a 2CD-set (S22-18319) which contains the 3 LPs and the original artwork.
The songs featured on these records told descriptive stories about the gang and their favorite pastimes, like hot rodding and surfing. The general message intended was that being different or weird was okay and being a Fink or a Weirdo was cool. It was a lesson some of us never forgot.